Brendan and I have been married eight years. Every year on our anniversary, we reminisce about all of the wonderful things from our wedding day. We also tend to dream about what we would have done differently. I've witnessed over 250 weddings and have seen the most blissful days and some of the most stressful. Here are a few mistakes to avoid when planning a wedding and some things that have caused stress to my couples. All of this is written with love. My hope is that you will enjoy your wedding day to the fullest.
Too Many Things.
I see a lot of couples fill every 15 minutes of their timeline with structured things they must do. First look with parents. First look with bridesmaids. A large variation of group portraits with the same people. Bouquet toss. Eight toasts. Blessing. Five special dances. Slideshow. Signing the marriage license. Cake cutting. Special song, etc. None of these are bad things in the least. Some people dream of all of these events, and others schedule them because they feel like they must. There is a difference. For the latter, I see the sheer amount of activities take my couples away from their guests. Instead of spending time with them, they are checking off a long to-do list. They dread the next activity instead of reveling in the natural moments that transpire. The day feels like a production instead of a celebration.
Solution: As you work on your timeline, question every activity that is placed in your timeline. Are you scheduling events because "it's a wedding day" or "my best friend said we should" or "my mom would be mad if we didn't" or because you genuinely want to engage in it? Are you scheduling enough "free time" to be with your partner, friends, and family?
Trying To Please Everyone.
Things I've heard in twelve years of wedding photography:
"This is the dress my mom picked, but I would have chosen something different."
"We're not church people but my parents wanted us to get married in a church."
"We really want to get married in the rain instead of moving the ceremony indoors, but my guests will be unhappy."
"We want to perform this special ritual during our ceremony, but our parents think it is weird."
"I really don't want to do extended family photos, but our families will be unhappy if we don't."
"We want a small wedding, but my parents are paying for the day, so they control the guest list."
I could go on and on. Some of those quotes are from my own wedding planning experience (but I've heard it repeated in other weddings too). However, guests love attending weddings that are different and fresh. They adore getting to celebrate you as a couple and all the things that make you unique. Yes, I believe a wedding day is about a community coming together to celebrate the two of you. Some have more opinionated parents and dramatic family members. We all try to avoid unnecessarily conflict wherever we can. However, please, please, please plan your wedding how you dreamed. You will be so much happier for it. The blissful couples that I've seen on wedding days are the ones that celebrate the things that matter most to them.
Solution: If you know that a certain decision will make you miserable, be honest. Some wedding decisions are minor and worth compromising on. Others will affect the entire day. Try to compromise on the little things and stand your ground on the most important items.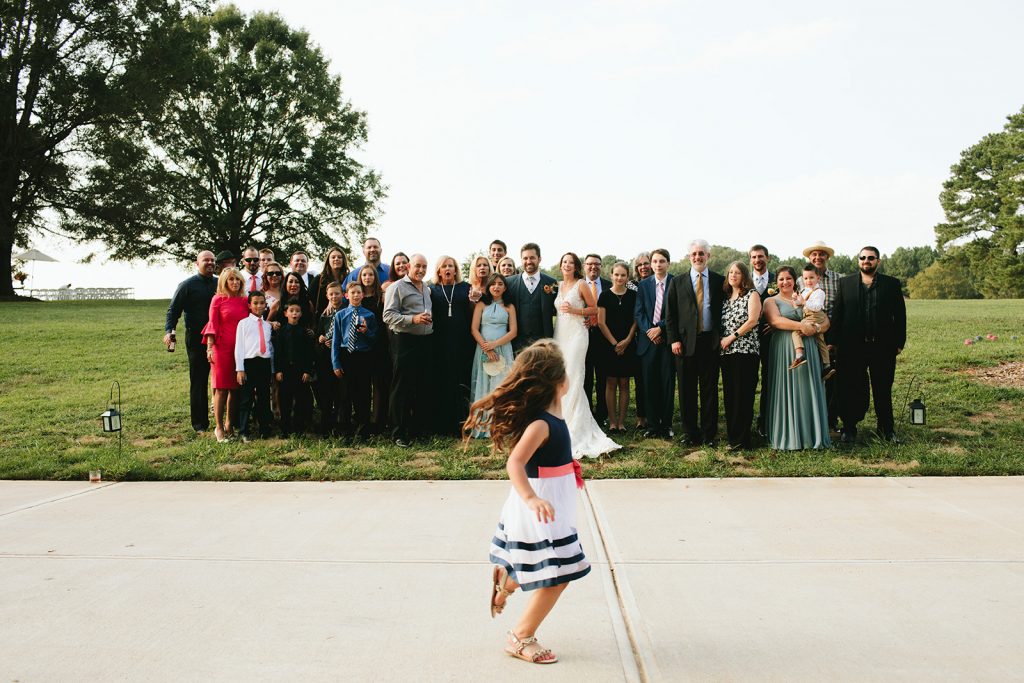 Too Many Group Photos.
Three months out from the wedding day, it might seem like a good idea to have 100 group photos. After all, how often do all of these people get together? How often can you have photos with your best friends? However, this is by far the number one most stressful event that I see on wedding days. I do everything in my power to help you through it, but I've never seen a large group shot list NOT be stressful. Trust me on this. You will want to enjoy your cocktail hour or reception. You will want to dance and eat your food (and dessert!) and not be pulled away for those extra groupings we saved for the reception.
I've designed at least a hundred albums/books and have fulfilled many print orders. I never see anyone print all of their group photos, especially the 10 combos with the same five people. They typically print a few immediate family portraits and maybe one or two friend photos (usually the people that are already in their bridal party). Most of my couples value the candid moments of their people far more than any posed ones.
Solution: I absolutely believe that you SHOULD have group photos! When you make your list of groupings, keep it simple. If you have a hard time narrowing it down, make a "B List" of optional group photos. On the day, you can make the call if you want to just head to your party or keep working through your list.
It is my goal on every wedding day to make sure every person is photographed at least once. Trust that I will get candids of your aunts, high school friends, and the older generation that sits at the table chatting instead of dancing. Ultimately, I'm there to serve the two of you. If you love group photos, I'm all for it.
Skipping Most of Your Couple's Portraits.
Often this is because you've overwhelmed yourself with a long group shot list and the last thing you want to do is smile for another 20 minutes with your partner, so you cut this time short. Or, you didn't plan a first look and all of your portraits are back to back, so you just want to take a break and party. Or, it's raining outside. Or, cold. Or…
Trust me on this, you will want photos of just the two of you. Prioritize this time alone. It will bring you peace on a day that can be stressful. Embrace whatever weather you get because it is part of your story. Dance in the rain! Our portrait time was one of my favorite moments during our wedding day because we could breathe. We could revel in our wedding day and be present with each other.
Solution: A first look will help split up your portrait time so that it's not all in one block. It will also allow you flexibility on a stormy day. Planning a smaller group photo list will help you enjoy portrait time more.
I'd love to be a resource for you! I'm planning to address the questions I receive in the coming months on my blog + newsletter. Please ask anything that comes to mind!
Nothing is off the table. If I cannot answer it, I will find someone who will. Ask your question here.