It's easy to disappear down the Google rabbit hole, so I thought I would write this blog post to help those who are trying to figure out how to elope in Asheville. I'm going to address the most commonly asked questions, including the best locations to elope in Asheville, permitting, and outfit selection. If I missed anything, please leave me a comment at the bottom, and I'm happy to add it to this list.
Full disclosure: I am not a wedding planner or a guide. I've photographed many, many elopements, and this post is intended to pass along free information for couples who are looking to elope in Asheville, NC.
Where are the best locations to elope in Asheville?
Asheville and the surrounding mountain towns have unlimited places for elopement locations. Your location choice will ultimately depend on how far you want to hike, if you'll have family + friends in attendance, the season, your preference for mountain views/waterfalls/forest, etc. Here are a few of the most popular choices:
Black Balsam Knob
Black Balsam Knob is a popular choice because it is only an hour from town. The hike to the first bald is less than a mile and easy. This trail is known for the wooded forest, views, and wildflowers (depending on the time of year). The Forestry Service is requesting that this option not be used for elopements during peak times to limit traffic + parking issues. I would recommend only planning an elopement here during the week or off-peak hours.
Craggy Gardens*
Craggy Gardens Pinnacle is probably the most popular choice because it is the closest mountain view trail to town (48 minutes), and it has spectacular views for less than a mile hike to the pinnacle. *However, the Blue Ridge Parkway only allows a certain number of elopement services in the parking lot. They will not allow ceremonies on the trail, but they do allow photography. When couples wish to have photos taken here, I recommend finding a separate place on the parkway or in town for the ceremony, and then making it to Craggy for photos later.
Please also keep in mind that Craggy is usually only open from late March-early November.
Roan Mountain
Roan Mountain is a little bit of a drive from downtown Asheville (1.5 hours), but it is worth the trek. With a hike a little over a mile, you can witness stunning forests, fields, and a 360º view from the first bald.
Max Patch
The U.S.F.S. is starting to be more proactive about limiting elopements at Max Patch, so I would only recommend elopements here during the week or off-peak season. Max Patch is a super easy trail that has incredible views year-round. This is also one of the trails that is open 365 days of the year.
Montreat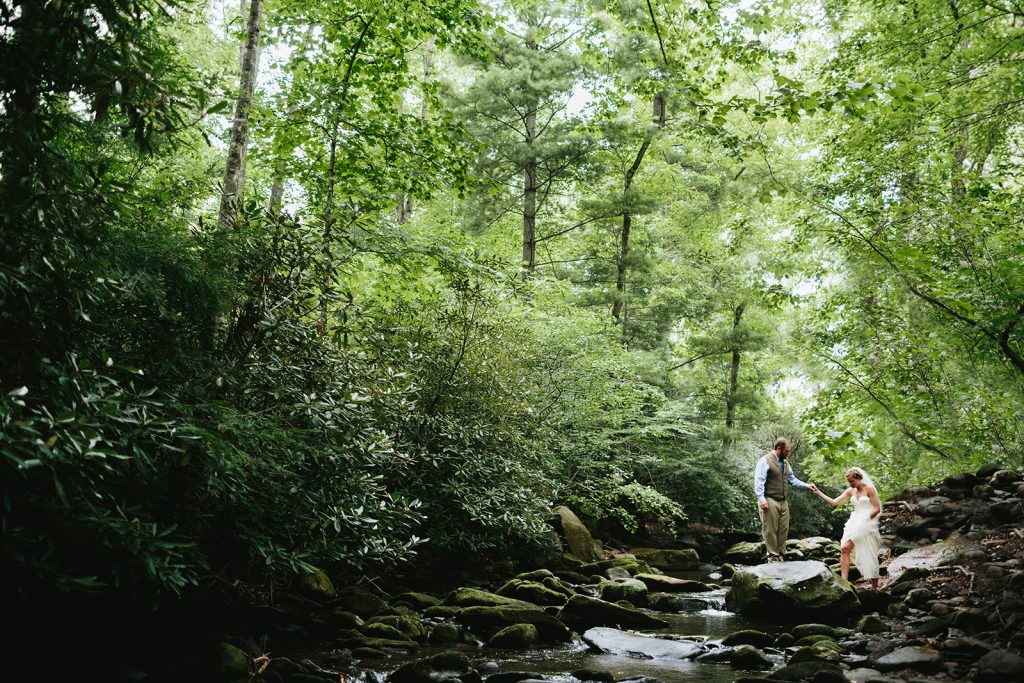 Montreat is a lesser-known option, and I'm surprised more couples don't elope here! The small community has lush rhododendron forests, river access, and there are several trails that boast mountain views. The mountain-view trails are rated more moderate to difficult, however.
Rough Ridge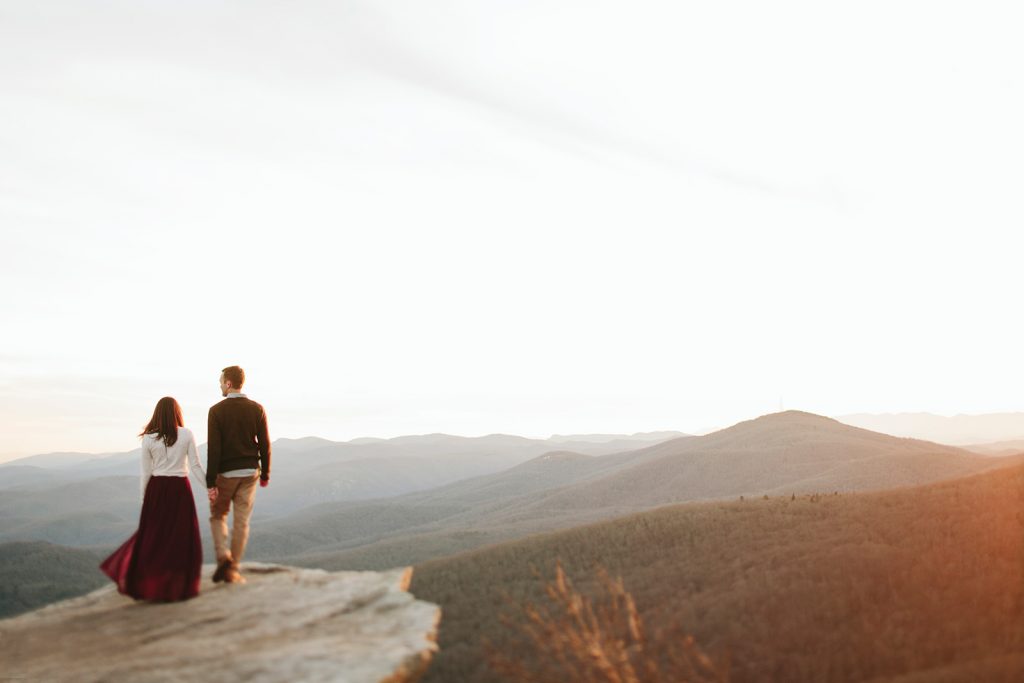 Rough Ridge is closer to Blowing Rock/Boone, but it is only about 1.5 hours from Asheville. The trek to the first overlook is short and easy with incredible 300º views. This is a popular trail, so I recommend choosing an off-peak date or weekday for this location.
NC Arboretum
The Arboretum is only 15 minutes from downtown Asheville, and it is a great option for the winter months when the parkway is closed or the weather is cold at higher elevations. The grounds wind through forests and an elaborate garden. There is even a mountain view!
UNCA Botanical Gardens
The Botanical Gardens are a great choice if you want to have your ceremony closer to town, but you want to be outside. While only 7 minutes from downtown, the gardens offer a lush natural experience year-round.
Lady Luck Flower Farm
Lady Luck Flower Farm is absolutely stunning and a short drive from town. Their farm boasts great views, fields of flowers, and a few other rustic backdrops for photos.
This is just a small sample of the elopement location options in western NC! While these are the most popular trails + locations, there are plenty of other places that are more private if you're willing to hike a bit farther.
Do I need a permit to elope in Asheville?
The short answer: it depends.
If you are planning an elopement on the Blue Ridge Parkway (including Craggy Gardens), then yes. As of 3/2020, it is $60 for the application and $40 the permit. BRP elopements are limited to 25 people. More info is here.
If you are planning an elopement pretty much anywhere else, it is most likely regulated by the U.S. National Forestry Service. Their current rules dictate that you do not need a permit unless you will have over 75 people in attendance. More info is here.
Are there any restrictions or rules for eloping in Asheville?
Yes. The Blue Ridge Parkway and NFS both have rules for eloping in Asheville. Here are the most common no-nos:
// Real flowers, seed, rice, etc. are not allowed. The flowers can leave seeds which can damage native plants + species. Fake flowers are the way to go!
// Altars/decorations require special permitting and will most likely be discouraged.
// Alcohol is not allowed on the BRP.
// Releasing balloons is not allowed.
// Candles are not allowed for BRP elopements.
// Above all else, please leave no trace. Be mindful of signs that restrict foot traffic. For example, Craggy Gardens restricts visitors from climbing over the rock wall at the pinnacle. Doing so damages rare plant life.
I want to include my family, but they can't hike far. What is a good solution?
I recommend finding a location in town that doesn't require hiking for the ceremony. Then, the two of you can hike for photos after the fact. Or, some trails have lovely wooded areas at the base of the trail that don't block foot traffic. These can be great spots to include family that can't hike.
What time of year is best to elope in Asheville?
All seasons of the year are stunning in WNC! Each season has its perks and benefits. Here is a bit more detail:
Winter
The positive to a winter elopement is that the trails are much quieter with less foot traffic. You're more likely to have privacy. The negative is that most trails are closed from November-March. Max Patch, Roan, and a few other places in town are open year-round, however.
If you want snow, January and February are your best bet. November and March tend to be mild weather months and often have days in the 50ºs-70ºs.
Spring
Spring is when tourist season begins and the parkway re-opens. The leaves don't start to turn green until at least mid-April at 5000+ feet, where most of the trails are. However, the views are still spectacular, and there tends to be less visitors until May.
Summer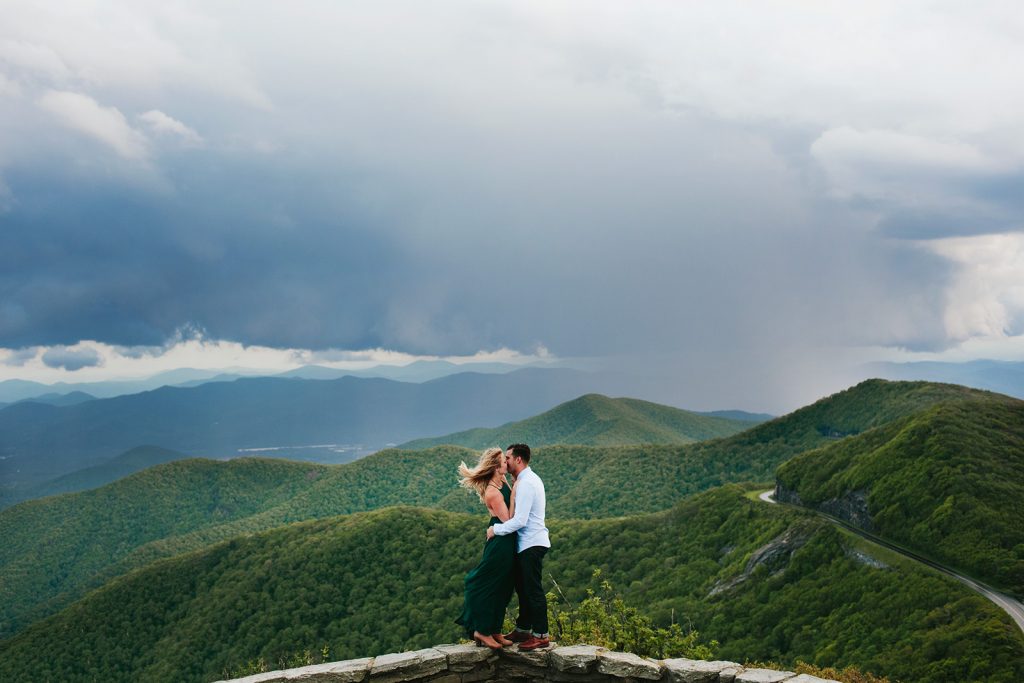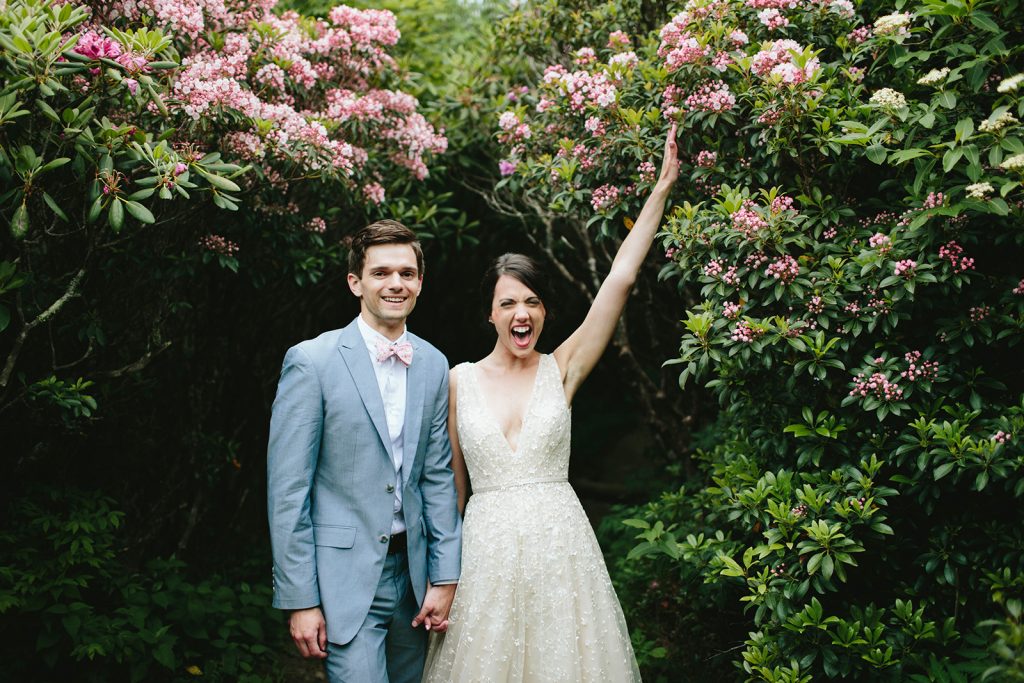 Summer is probably one of the most stunning months in the mountains. Everything is lush and green. The rhododendron also bloom mid-June. But, do you know why everything is so lush and green? Rain. Lots and lots of rain. This region is technically a rain forest, and the rain tends to fall the most between June-August. However, the rain showers are typically scattered, so if you can be flexible, you can work around the weather.
Summer also attracts the crowds, so the trails are much more packed. Its best to plan your elopement for a weekday if you want privacy this time of year.
Fall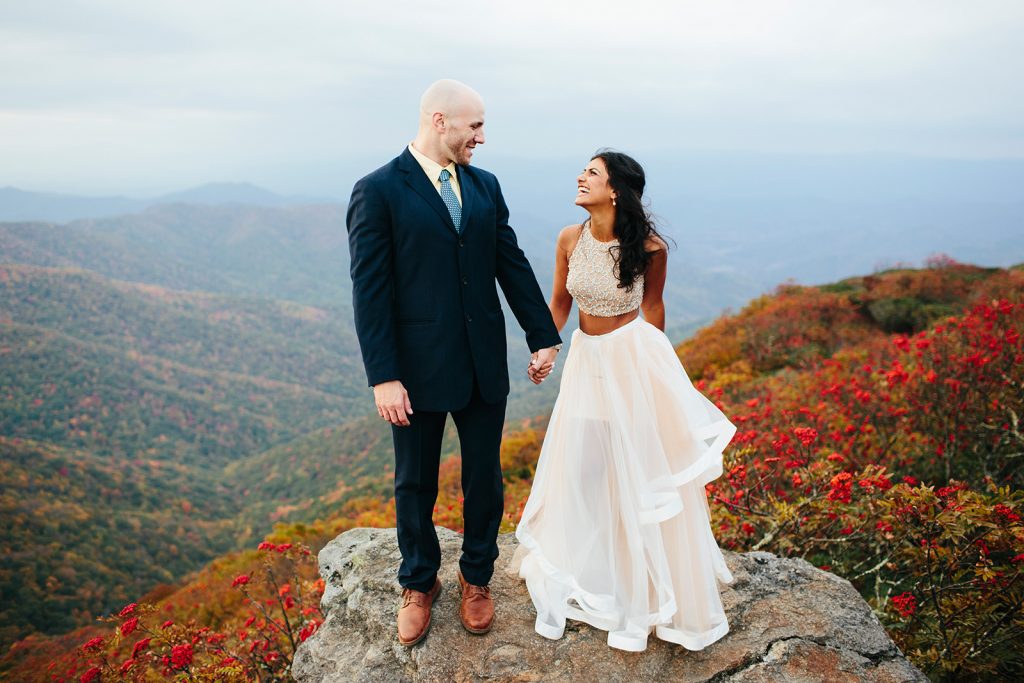 Fall might be the most popular month in the Carolinas to get married, for good reason. The weather is mild and the leaves are changing. Because of this, it can be impossible to get permits at certain locations. For fall elopements, I recommend choosing a weekday or a morning ceremony to avoid crowds. And/or, search for a less-popular trail that won't have as many visitors.
What do most couples wear to their elopement?
Really, you can wear whatever you want!
As far as dresses go: long, flowing dresses photograph best. They are great for capturing movement and provide more flexibility for hiking. Heavier/ballroom-type dresses are great for winter months to help preserve warmth. But, they restrict movement when hiking. Free People has gorgeous boho dresses that are affordable and unique for elopements! I also adore Wildflower Bridal in town. She has a great variety of unique gowns at different price points.
For those wearing suits: most will wear a dress shirt with a tie/bow-tie without a jacket to dress it down a little bit. That said, I've also seen people wear a full suit for their elopement.
How many hours will we need for our elopement?
Most elopements last about two hours (photography-wise). That time frame includes the ceremony, a few group photos (if applicable), and a solid hour to hike and take couple's portraits.
For those that are planning a smaller wedding, a longer hike, or want coverage of getting ready and/or their small reception, four to six hours might be more adequate.
I hope this free information was helpful for those trying to figure out how to elope in Asheville!